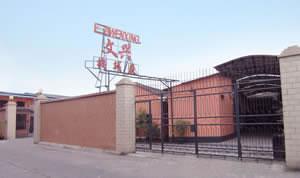 Overall Introduction
Foshan City Nanhai District Yanbu Wenxing Machine Factory specializes in producing first-rate key cutting machines and related spare parts. Currently, we have developed four lines of key cutting machine. We also supply more than one hundred types of key cutter. Our key cutting machines have achieved SGS (Societe Generale de Surveillance S.A.), CE (Communate Europpene), and CSA (Canadian Standards Association) approval and are sold in over sixty countries and regions in the world.
Wenxing is professional in producing the highest quality key cutting machines, key duplicators, and other accessories. For many years, we have diligently studied and developed new products to satisfy every customer's needs. We have climbed the ranks and are proud of our great success. We started our business with one single key cutting machine, and currently we have over thirty different specifications of our machines. Moreover, we manufacture all of our products in strict compliance with CE and CSA standards.
Our success is due to many factors, but ultimately stems from the fact that we are devoted to our factory, our profession, and our customers. Our commitment to the continuous development of new products and to maintaining strict quality standards ensures that our clients receive only the best products available.
Development History
Foshan City Nanhai District Yanbu Wenxing Machine Factory has been in operation since 1983. Our predecessor, Wenxing Machine Factory, moved to Nanhai City and was renamed Nanhai City Yanbu Wenxing Machine Factory in 1998, as a result of our continual increase in production and sales demands. Our company was again renamed in 2004, to our present name after Nanhai City became a district of Foshan City. Throughout these changes, we have been consistently committed to offering our superior high quality key cutting machine products to every worldwide customer.
Company Culture
At Wenxing, our philosophy is "We make quality machines, you make quantity profits."
So that we can tailor our company to the needs and requests of our clients, we welcome your comments and suggestions. If you are interested in any of our products, please do not hesitate to contact us for further information. We are looking forward to working with your company in the near future.